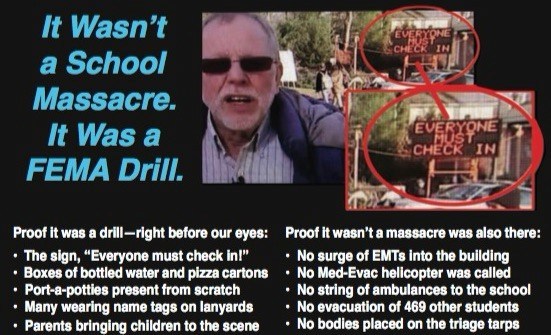 Get "Suppressed Health Secrets" and find natural cures THEY don't want you to know!
Note: please go to www.stewwebb.com for all of Stew Webb's radio shows and articles!  ABC News mentioned the lawsuit Jim Fetzer talks about in this show tonight.  
Jim Fetzer goes over the Kangaroo court he witnessed in the bogus lawsuit he was hit with.  He goes over all the evidence proving Sandy Hook was a FEMA drill to take guns!  Of course the Kangaroo court didn't allow any of his smoking gun evidence into court so the trial was a total farce!   This lawsuit is a total betrayal to the First Amendment!
Now this Sandy Hook Hoax case moves on to the damages phase later this year.  Here's information I happened to uncover myself from a man who found out it was all fake by two people he personally had known for many years.  Youtube deleted this video within 20 minutes of upload on a Saturday!
In this testimony a man testifies that he personally knew a fireman who was first on scene saw nobody at Sandy Hook when he entered!  Later threatened by men in suits if he talked!  Also a funeral director told this man the coffins for Sandy Hook were ordered weeks before and buried filled with rocks.  This is his testimony.   
Fireman Saw Nobody At Sandy Hook! He Was First On Scene! from Truth Warriors on Vimeo.
Here's part of Jim Fetzer's Oral Arguments in the trial .  Please read the entire document with proof of FOUR death certificates here:
https://jamesfetzer.org/2019/06/sandy-hook-pozner-v-fetzer-lawsuit-...
ORAL ARGUMENT BRIEFING NOTES
Defendant James Fetzer
17 June 2019
The death certificate for which I am being sued is the one published in the book,Nobody Died at Sandy Hook: It was a FEMA Drill to Promote Gun Control, which has appeared as Chapter 11 co-authored with Kelley Watt in both first editions (2015) and second (2016). It is an expanded and revised version of an article that I originally published on Veterans Today(6 August2014), which included the death certificate for my characterization of which I have been sued. Kelley said it came from "Lenny". I published it in VT and with Mike Palecek in both editions and we made no changes to its content.
It appears that I added a border, which is not one of the things that they complain about.  The circumstances of this version's publication are not in issue. The death certificate that I received from Plaintiff via Kelley Watt is not certified by Newtown's Registrar of Vital Statistics, Debbie Aurelia (now) Debbie Aurelia Halsted. Plaintiff has admittedto his conversations with Kelley and to having posted it on Noah's memorial Google Plus page.  So, even though I may have added a border, for which I take responsibility, the rest came from him.  The file size is immaterial and varies with compression and reproduction. What matters is what is on it—and what is not, because it does not have the Town Registrar's certification on the side, it is therefore illegal and a fabrication, precisely as I maintain.
In his latest gambit, moreover, the Plaintiff attempts to prove too much. If the border makes a difference and the death certificate is ON THAT VERY GROUND not bona fide, then the certificate that I described as a fabrication In the book is in fact a fabrication by Plaintiff's own contention. How ironic that Plaintiff thereby admits that I am right and my statement truthful, in which case I cannot be found guilty of defamation for my true affirmation. If the death certificate published in the book were not the same as the one that "Lenny" published on a web site, then the suit filed against me and my co-defendant, Mike Palecek, on 27 November 2018, would have had an entirely different character. The Complaint does not deny this is the same document that "Lenny" provided to Kelley Watt but instead attacks me for declaring it to be a fake and a fabrication. The appropriate passages from the Complaint read:
The second edition of "Nobody Died at Sandy Hook" accuses Plaintiff of issuing and/or possessing a forged copy of N.P.'s death certificate. In particular, page 183 of Nobody Died at Sandy Hook states: "Noah Pozner's death certificate is a fake, which we have proven on a dozen or more grounds." At page 232 the book states, [Mr. Pozner] sent her a death certificate, which turned out to be a fabrication." At page 242, the boostates, "As many Sandy Hook researchers are aware, the very document Pozner circulated in 2014, with its consistent tones, fonts, and clear digital manipulation, was clearly a forgery." 
A comment from a contribution to the Sandy Hook Memoranda for POTUS, edited by Robert David Steele, has also been cited as being defamatory:
Mr. Fetzer's publication of this false accusation against Plaintiff was not limited to the book.  He repeated that false statement on one or more blog posts, including, e.g., https://phibetaiota.net/2018/08/james-fetzer-in-solidarity-with-alex-jones-how-we-know-sandy-hook-was-a-fema-drill-nobody-died-obama-officials-confirmed-it-was-an-anti-gun-propaganda-exercise. That blog post is dated August 5, 2018. There, Defendant Fetzer made the following false statement: "It [N.P.'s death certificate] turned outto be a fabrication, with the bottom half of a real death certificate and thetop half of a fake, with no file number and the wrong estimated time ofdeath at 11 AM, when 'officially' the shooting took place between 9:35-9:40 that morning."  That statement is false, both in its particular fact and in the main point, essence, or gist in the context in which it was made, because N.P.'s death certificate is not a fabrication or forgery. That context of that tatement referred specifically to Plaintiff, the previous sentence reads:"Kelley Watt had over 100 hours of conversation with 'Lenny Pozner', whopurports to be his father and who sent Kelley a death certificate for 'Noah' as proof that he had died, which we included in the book."
Notice there is no denial that the death certificate published in the book is the same as the death certificate that the Plaintiff made available to Kelley Watt, who in turn shared it with me and I with my co-defendant, when we edited and published the first edition of the book using CreateSpace, a subsidiary of amazon.com, and placed in on sale on 22 October 2015 only to be banned on 19 November 2015 after selling nearly 500 copies.
Moreover, we are all aware that arguments have two parts: premises(or the grounds reasons or evidence one cites) and conclusions. In this case, my premises may have been mistaken or wrong—the absent file number, the differences in tone and texture, the variations in font sizes and spacing, which led me to believe that this document had been created by combining the bottom half of a real death certificate with the top half of a fake—given what I have learned in the meanwhile, do not appear to have been right. But my conclusion—that the document is a fake or a fabrication—has been borne out by subsequent research, including the forensic analysis of Larry Wickstrom, confirmed by the further review and analysis of A.P. Robertson, which leave no doubt about it. Even though my initial reasons were bad, there are abundant good reasons to arrive at the same conclusion, where my original argument had false premises but a true conclusion.
As the Complaint itself emphasizes, its foundation is the crucial claim I have made that the death certificate that Plaintiff provided to Kelley Watt is a fake, a fabrication, or a forgery. Truth is an absolute defense to defamation. This case hangs on the question of authenticity, specifically, upon the truth or falsity of my assertion that this document is not authentic as a fake, a fabrication, or a forgery. My premises or reasons for reaching that conclusion may not have been good ones, but the conclusion I reached, which is the issue upon which this case revolves, was true. And because I believed what I wrote at the time on the basis of (what I took to be) good reasons at the time, I cannot have acted with malice, which requires knowing what you are asserting is false but asserting it anyway with the intent to mislead your target audience, which I have not done. This means that the Complaint likewise has no basis in claiming that I acted with malice;
36, Defendant Fetzer acted with actual malice. In particular, Defendant Fetzer published  his statements knowing that the statements were false or with reckless disregard for the truth or falsity of the statements.
On the contrary, my conclusion was reached on the basis of collaborative research with several others, including Dennis Cimino, who was the top electronics trouble-shooter for the US Navy before he left to work for Raytheon and a contributor to the first edition of the book and who suggested that portions had been photoshopped, where I had reason to take him at his word. The additional reasons reported by Bob Simms—about the fonts, the size and spacing of words in the document—were ones I confirmed by direct observation. In combination with my own observations about dark texture of (roughly) the bottom 2/3 in contrast with the top 1/3, it was my inference that the document appeared to be fabrication combining the bottom half (or 2/3) or a real death certificate with the top half (or 1/3) of a fake, which I no longer believe is true.
My reasons regarding the top half included the absence of a file number, which it turns out can occur with documents obtained from the Town Registrar, and wrong estimated time of death as 11 AM, when, as even the Report on the Sandy Hook Shooting by Danbury State's Attorney Stephen Sedensky III states, the shooting took place between 9:30-:40 (or 9:41), which meant the estimated time of death was wildly inaccurate. Even though the Medical Examiner, Wayne Carver, II, M.D., sought to explain that away, it remains inconsistent with the official account, which was one more reason why I sincerely believed that this document is a fake, a fabrication or a forgery. Therefore, for the wrong reasons, I came to the right conclusion. Not only am I not guilty of defamation, therefore, but I did not act with malice, which is another false accusation.
Appended to the Complaint was a copy of a death certificate that I had never before laid eyes upon, which the Complaint alleged to be the same in every material respect:
The Connecticut Department of Public Heath maintains official death records forthe State of Connecticut. The Connecticut Department of Public Heath, Vital Statistics Division, issued an official death certificate for N.P. A true and correct copy of that death certificate (sensitive information redacted) is attached hereto as Attachment A. The official death certificate attached hereto does not differ in any material respect from the one released publicly by Plaintiff.
The claim that the death certificate attached to the Complaint "does not differ in any material respect from the one released publicly by Plaintiff", as should be apparent already, blatantly falsifies the situation we confront, because the attached certificate has both the State certification as a true copy and the certification of the Town Registrar, in the absence of which it qualifies as illegal and a fabrication. By Connecticut law, not even a parent can obtain an uncertified copy of a death certificate. It's that blatant.
They say. "The law works in mysterious ways", but I am baffled to this day how I could be sued for defamation regarding a document that I had never before seen, much less commented upon prior to the filing of this suit. Moreover, the copy attached was so poor that it was virtually illegible and legally useless, as I explained to Mr. Zimmerman when he called me about the suit. I asked him if he knew anything about Sandy Hook or had any idea what he was getting into, adding that the copy attached was so poor as to be unreadable and legally useless. He replied that, if I wanted a better copy, I could contact the State of Connecticut to obtain one for a $20 fee. I thought that was rather strange: to provide the Defendant with an illegible copy of a document on which the case was said to be based. While I did not initially attempt to obtain a copy, eventually co-defendant, Dave Gahary, and I both obtained copies of the death certificate for "Noah Pozner". To my surprise, they were not the same. Mine had the same hand-written file number as on the copy attached to the complaint but no redaction for the burial location and the SSN box was empty rather than redacted. Dave's had a partial, printed file number that does not correspond with the others. We therefore have four different versions thereof:
See Full article with proof of death certificate forgeries here:
https://jamesfetzer.org/2019/06/sandy-hook-pozner-v-fetzer-lawsuit-...