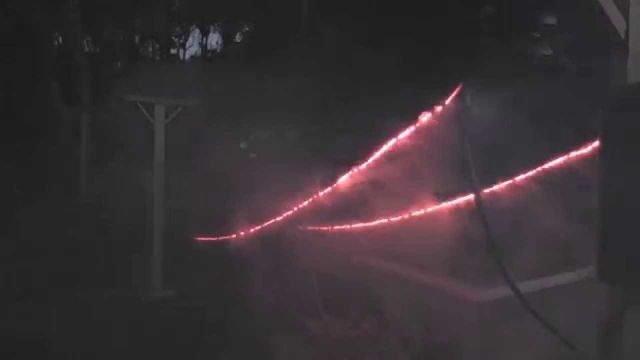 This local tells about how the power lines going to the China Lake military base were glowing red during the 7.1 Quake!  Was the facility drawing a massive amount of power for some weapon test that went wrong?  Or was it an attack on the base with a magnetic pulse of some type.  Interestingly, the Sorcha Faal (CIA) websites that mixes in some truth with some disinformation talked about a magnetic pulse possibly being used to create an Earthquake at China Lake.  I have no idea what happened at China Lake or with the Russian Sub, but thought this could be a piece of the puzzle.  There seems to be some evidence that China Lake could have been taken out somehow with an Earthquake triggering weapon.  Nothing would surprise me at this point.   A magnetic pulse would short out things and could cause the power lines to glow red.
(interesting info on CIA Sorcha Faal) - puts out truth mixed in with some disinformation 
A heavily redacted highly classified "Of Special Importance" new Ministry of Defense (MoD) report circulating in the Kremlin today assessing the geopolitical ramifications of Iran having just announced it exceeded the 3.67% limit of uranium enrichment level set by the nuclear deal, obliquely (not in a direct way; indirectly) states that President Donald Trump's ousting of Vice Admiral William Moran, who was set to become the US Navy's top uniformed officer, a few hours ago "most certainly" saved the Naval Air Weapons Station China Lake from total destruction—a statement followed by a notation made after Admiral Moran's ouster that the Akademik Lomonosov had been placed on "temporary inactive status"—which is the massive and mysterious non-self propelled Russian atomic warship known to be a  "tectonic weapon" platform that functions by creating a powerful charge of elastic energy in the form of a deformed volume of the Earth's crust in a region of tectonic activity, that then becomes an earthquake once triggered by a nuclear explosion in the epicenter or a vast electric pulse—and after the US Navy attacked and killed 14 Russian submariners on 1 July—became "active" and targeted with two massive earthquakes this US Navy base in the Southern California desert knocking it out and causing all of its non-essential personnel to b...—and to this hour remains closed until all safety inspections are completed. 
...
By mid-May-2019, though, this report further notes, Russia braced for war after receiving reports that President Trump ...—a war that came "within seconds" of occurring in early June-2019when a US Navy warship tried to collide itself against a Russian warship—whose escalating tensions between ratcheted up even further a week later when the US Navy attempted to create a "false flag" event off the coast of Iran by targeting two oil tankers—thus causing the MoD to retaliate by ordering the "Nation Killer" nuclear armed Russian warship Admiral Gorshkov to post itself off the coast of the United States within a minutes firing range of all US Naval bases—that the US Navy then responded to by attacking a Russian submarine and kill...—thus necessitating Russia to having to use its feared "tectonic weapon" to reduce to rubble the US Naval Air Weapons Station China Lake b...—and was an attack only stopped after President Trump ousted the US Navy's top officer a few hours ago.   
President Trump's final endgame to retake full control over the US Navy before they can start World War III, or cause another 9/11 attack, this report concludes, begins three months from now on 1 October 2019—and is when US Army Chief of Staff General Mark Milley will become Chairman of the Joint Chiefs of Staff and will be second in command only to Trump himself of all US military forces, thus throwing the US Navy from its decades long position of "Deep State" power—and whose open declaration of war against the "Deep State" he's already issued orders for by telling his military forces and vowing to the American people:
http://www.whatdoesitmean.com/index2918.htm
Get free ebook, "Suppressed Health Secrets" and get natural cures THEY don't want you to know!  
You'll learn about APeX as discussed below!  It's kept the inventor from getting a cold for 16 years and counting!  This will never be on the fake news!