Fig. 1—Serco Group Plc conspires with the Senior Executive Service (SES) to implement a soft kill program to depopulate the world through eugenics, networks, software and poison programs.
Graphic: AFI.
(MAY 16, 2018)—On Jan. 02, 2018, a British Crown-controlled company named Serco Inc. was awarded a $610 million contract to manage FEMA Region 9 that covers Arizona, California, Nevada, Hawaii and the Pacific Islands. On Jul. 16, 2013, Obama awarded Serco a $1.2 billion contract to run the Obamacare website. Serco also manages the air traffic control towers in 63 U.S. airports, and has been paid more than $95 million to run the U.S. Patent and Trademark examination processes. Seesubstantiating evidence below.
WHO IS SERCO?
Why have we not heard of them? More to the point, why are we outsourcing critical American infrastructure, ingenuity and private medical information on every U.S. citizen to sworn agents of the British Crown?!
Serco's most recent 2016 annual report published at Companies House in London provides critical clues about Serco's unstated mission. In looking at Serco's bizarre collection of subsidiaries, one is left with the evident conclusion that something nefarious is afoot.
Video: American Intelligence Media (AIM).
ON THE SURFACE, SERCO IS THE WEIRDEST ASSORTMENT OF COMPANIES ON THE PLANET
Serco builds nuclear weapons, provides housing for migrants, reviews U.S. patents, runs the Obamacare website, operates obvious money-laundering shell companies in the Middle East, is teamed with Lockheed Martin, builds ships, manages massive IT infrastructure, manufactures space vehicles, runs job placement agencies, provides air traffic control to cities, runs rail services, manages parking meters, oversees FEMA Region 9, manages courts and prisons, and runs sports and recreation centers. Huh? This is the weirdest list of companies one can imagine, until one overlays Richard C. Walker's "wet-ware" patents on top, then it makes sense.
This Serco list of 73 subsidiaries revealed a shocking correlation among; (1) Serco's business interests, (2) the activities of the Senior Executive Service (SES), and (3) the monstrous "Internet of Things" patents filed by Richard C. Walker, Hewlett-Packard and Agilent Technologies.
EUREKA! SERCO IS TASKED BY THE SES TO MANAGE THE GLOBAL EXECUTION OF THE "WET-WARE" INTERNET OF THINGS 5G SATELLITE SYSTEM FOR THE DEEP STATE
In the Walker patents, human beings or people are labeled as mere "wet-ware." "Wet works" is a spy euphemism for assassination. Tellingly, Obama's chief of staff, John D. Podesta, used the term just days before Justice Antonin Scalia was found dead in Texas, after which Obama immediately began promoting SES gloabalist Merrick B. Garland to replace him at the Supreme Court.
The association of the spy tradecraft "wet" words is apparent. Walker does not even hide it, he states that his patents are intended to track and control everything and ever body in this world, even ino low orbit—The Internet of Things. It is apparent that neither Walker nor his SES handlers ever expected deplorables to read his work. We have.
5G IS INTENDED TO ELIMINATE MOST OF US
The widely-promoted 5G wireless plan is very clearly designed to make Walker's one-world government population control plan a reality. Elon Musk (SpaceX), Eric Schmidt (Google), OneWeb (Qualcomm, Amazon) have been working with the SES-controlled The Aerospace Corporation to put up a hundred satellites so far, with a planned 24,000 more in the 5G plan. 5G will enable the SES to eliminate people without harming plants and animals, so they think.
They're wrong. Why do you think honey bee populations are collapsing? ANSWER: Electromagnetic smog. Something like eight billion different radio frequencies surround us at all times. Can you mitigate these harmful frequencies? Yes, but we digress.
It is no longer a secret that New World Order globalists are proponents of eugenics and world depopulation, as was Woodrow Wilson, Adolf Hitler and as are Hillary Clinton, Barack Obama and Planned Parenthood. Indeed, government data aggregator Deagel.com, Agenda 21 and Ted Turner's Georgia Guidestonespredict higher than 70% population reduction by 2025. It appears that Serco is being paid billions of dollars a year to get ready and make it happen.
A modern history of the eugenics depopulation agenda.
Eugenicists want to dramatically reduce the world's population—by stealth if necessary. Wars have always been good for population reduction. Bankers get a two-fer when they fund war. They make money and they depopulate. In Secretary of State Madeleine Albright's world, 500,000 dead Iraq children was acceptable collateral damage. Poisons, toxins and altered genetics work too. For example, billionaire eugenics promoter Bill Gates recently suggested that medical treatment be withheld from the elderly and the savings given to education. With Gates its all in the family. In 2003, he told interviewer Bill Moyers that his father was the former head of Planned Parenthood. Gate's mother also worked at IBM—another eugenics promoter who supported Hitler's eugenics campa....
Serco companies are evidently working with the SES Deep State shadow government to implement 5G, and then manage the societal effects of their coming mass murder program. That's why Serco runs FEMA camps, owns pathology companies, houses migrants, owns laundries, operates prisons, provides transport and rail, run hospitals and leisure centers, builds ships and space technology—to zap the populace with 5G like a mosquito zapper, then handle the clean up.
SERCO IS DIRECTED BY THE SES
Ever since Americans for Innovation (AFI) and American Intelligence Media (AIM) unearthed the Senior Executive Service (SES), the revelations of their nefarious activities have been pouring in.
See Obama hired them. Trump cannot fire them. So they say(over 500,000 views). See also The shadow government uses SES, Serco and OPIC as portals into horrific corruption.
Suddenly, the amorphous "Deep State" blob has SES names, faces and titles. See SES Plum Books. For example, almost all of the current players in Robert S. Mueller's witch hunt are SES.
SERCO HISTORY
Among these SES corruptocrats is perhaps the largest British company in America that you have never heard of—Serco Group Plc. ("Serco").
Serco began life in 1929 in the United Kingdom (UK) as RCA Photophone Limited. In 1956, they changed their name to RCA Great Britain Limited. In 1969, they changed names again to RCA Limited. In 1987 their name changed again to Serco Limited.
Today, Serco employs 47,000 people around the world with 8,000 in the United States alone. In 2005, Serco bought commercial, government and defense contractor Resource Consultants Inc. (RCI). Then in 2008, they bought SI International, Inc., an almost carbon copy of RCI. SI International, founded by Lockheed Martin and CACI, Inc. insiders, became wholly-owned US subsidiaries of Serco Inc. These acquisitions gave Serco a significant foothold in major U.S. and government services, including IT, engineering, strategy consulting, HR, business process management, professional services, military and intelligence.
SERCO HAS BEEN HANDED HUGE SWATHS OF U.S. SECURITY INFRASTRUCTURE
Serco has become, in some cases, the single source provider of critical American infrastructure via 5,000 contracts totaling $6.2 billion (not including secret offshore accounts) including 477 contracts worth $41.3 million at the Senior Executive Services' Office of Personnel Management (OPM), four contracts worth $172 million at the Department of State (DOS), and 4,644 contracts worth $4.22 billion at the Department of Defense(DoD).
Three astonishing Serco contracts are: (1) a $95 million contract to run the U.S. Patent Office's processing of new patent applications, (2) a $1.2 billion contract to run the Obamacare website, and (3) $610 million to run FEMA Region 92: Arizona, California, Nevada, Hawaii and the Pacific Islands. Here's the actual Serco FEMA contract Solicitation No. HSFE80-R-004-DHS.
In addition, already mentioned, but bears repeating, Serco manages air traffic control at 63 U.S. airports! You cannot make this up. Outrageous? Most certainly.
THE SES DEEP STATE SHADOW GOVERNMENT IS SILENTLY USING SERCO FOR THE TAKEDOWN OF OUR REPUBLIC
Obvious questions are: "What is going on? (a) Why isn't Serco a household name in America? (b) Why are we outsourcing critical American infrastructure and ingenuity to the British Crown? (c) Why are our three branches of government and the media silentabout this evident coup de tat of American sovereignty?
This British hegemony extends to the American judiciary and government.
British Crown Agents operate in America and have numerous U.S. government contracts too. Here is one example, a $23.7 million USAID contract with Serco. These are the very same Crown Agents whose taxes on tea sparked the Boston Tea Party.  SeeCrown Agents Act of 1995. Why are we giving any money and contracts at all to the British Crown?
In addition, both British and American attorneys are given the title of "Esquire" despite the fact that Article I, Section 9, Clause 8 of the U.S. Constitution prohibits the federal government from granting titles of nobility due to the corrupting foreign influences.
The fact is, American lawyers, judges, law professors and students are organized into an elaborate British-styled union called The American Inns of Court with over 30,000 members. It is directly modeled on the British Inns of Court comprised of four "Temples" in and around the City of London and Westminster.
Tellingly, our American Inns of Court nowhere mention the U.S. Constitution in their charter documents, including their Vision Statement and Professional Creed. To whom do they pledge? To "the movement" and a generic "Rule of Law."
When one considers that The City of London UK banking center is adjacent to the British Inns of Court temples, one begins to get the picture. The British Army may have withdrawn in 1776, but Britain's bankers and lawyers dug in, and have never left. Now, a British company name Serco is being tapped by the SES to finish the job of bringing the American colonies to heal.
CONCLUSION: BRITAIN IS STILL RUNNING AMERICA.
Serco Group UK Plc's most recent annual report (2016) appears to be a very odd assortment of companies ranging from outer space, military, air traffic control and satellites to nuclear weapons, parking, pathology, laundry and immigration housing.
The following slides summarize our findings and conclusion that Serco was selected by Deep State shadow government globalists to manage the implementation of the SES soft kill of our population.
Here's a full list of Serco Group Plc's subsidiaries taken directly from their 2016 annual financial report.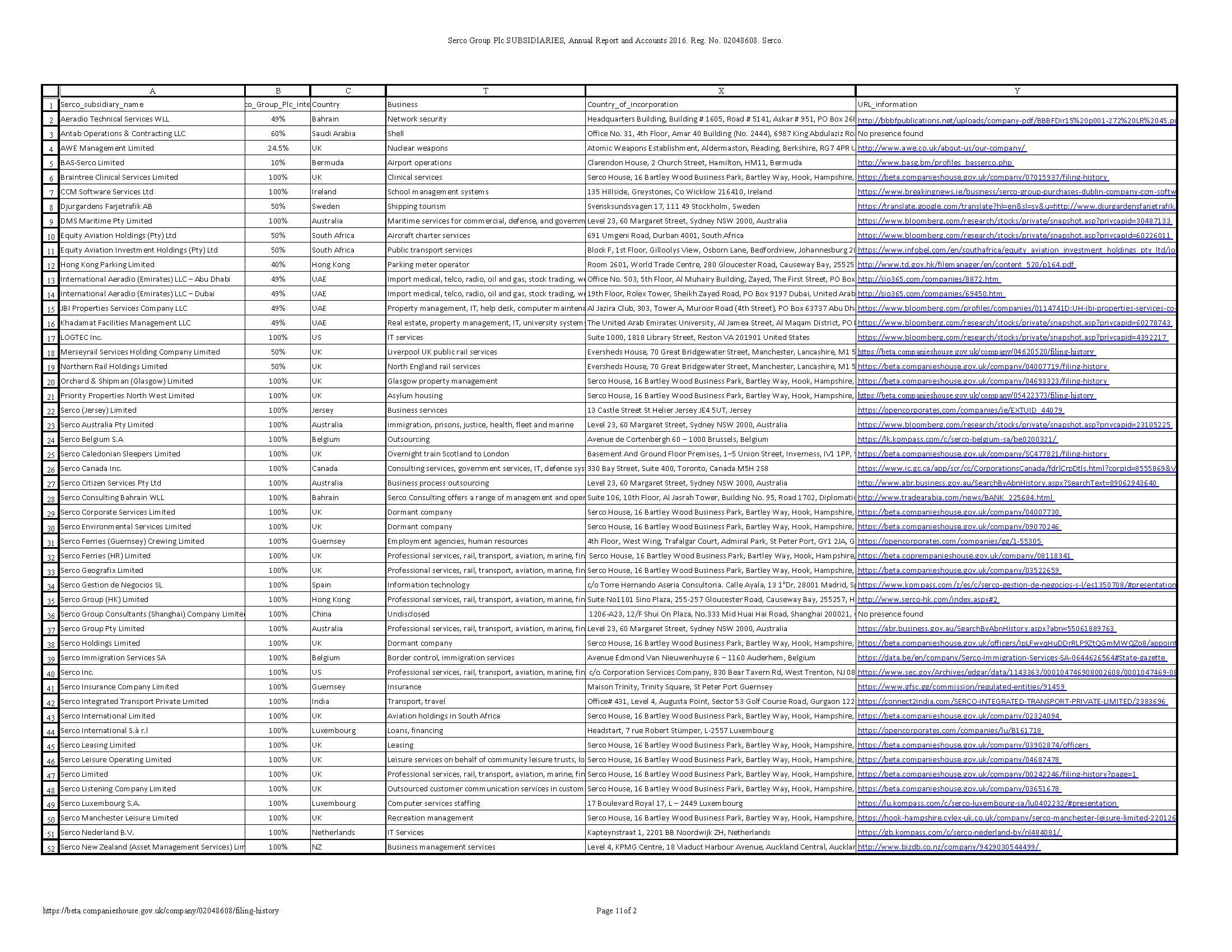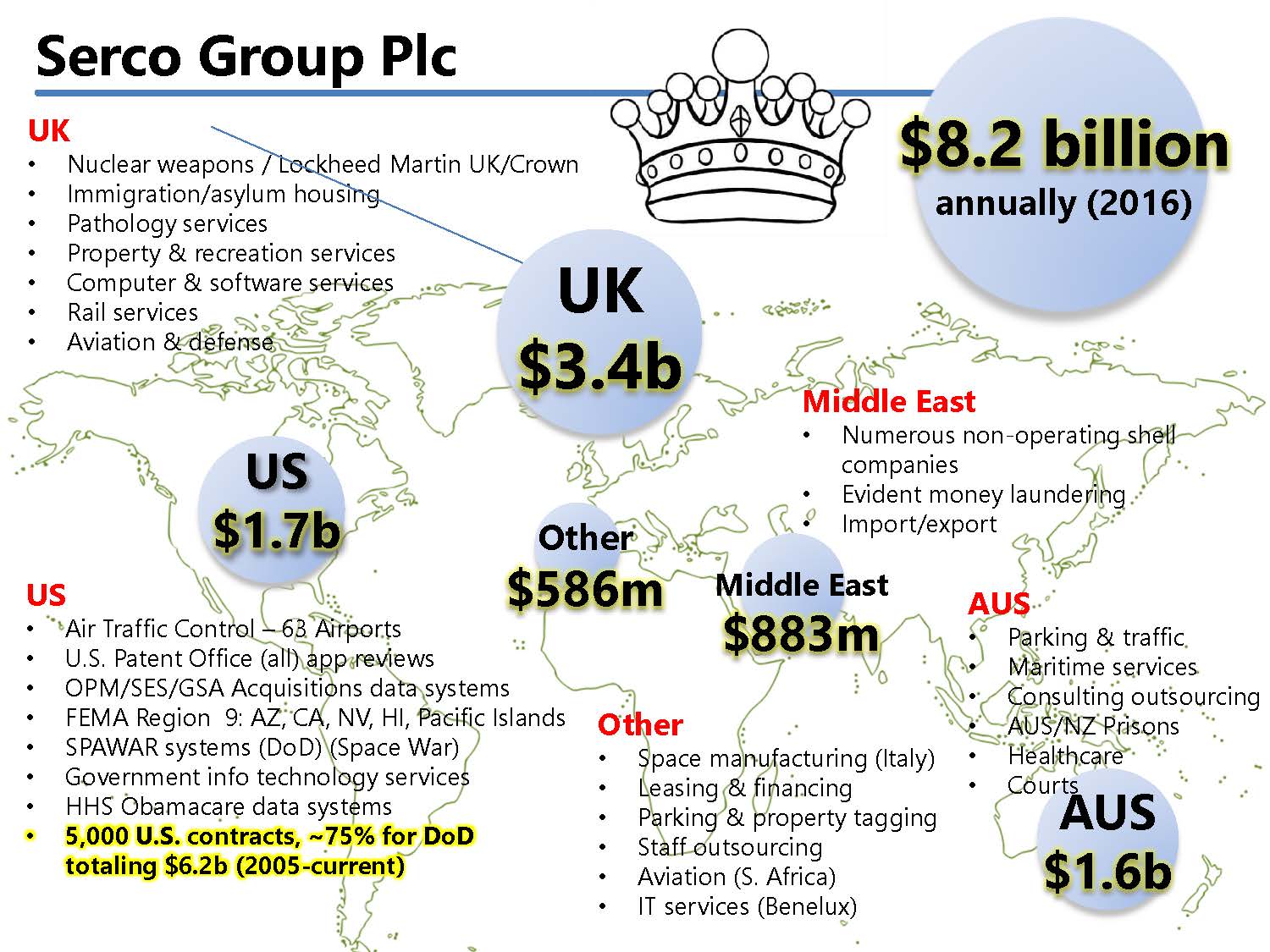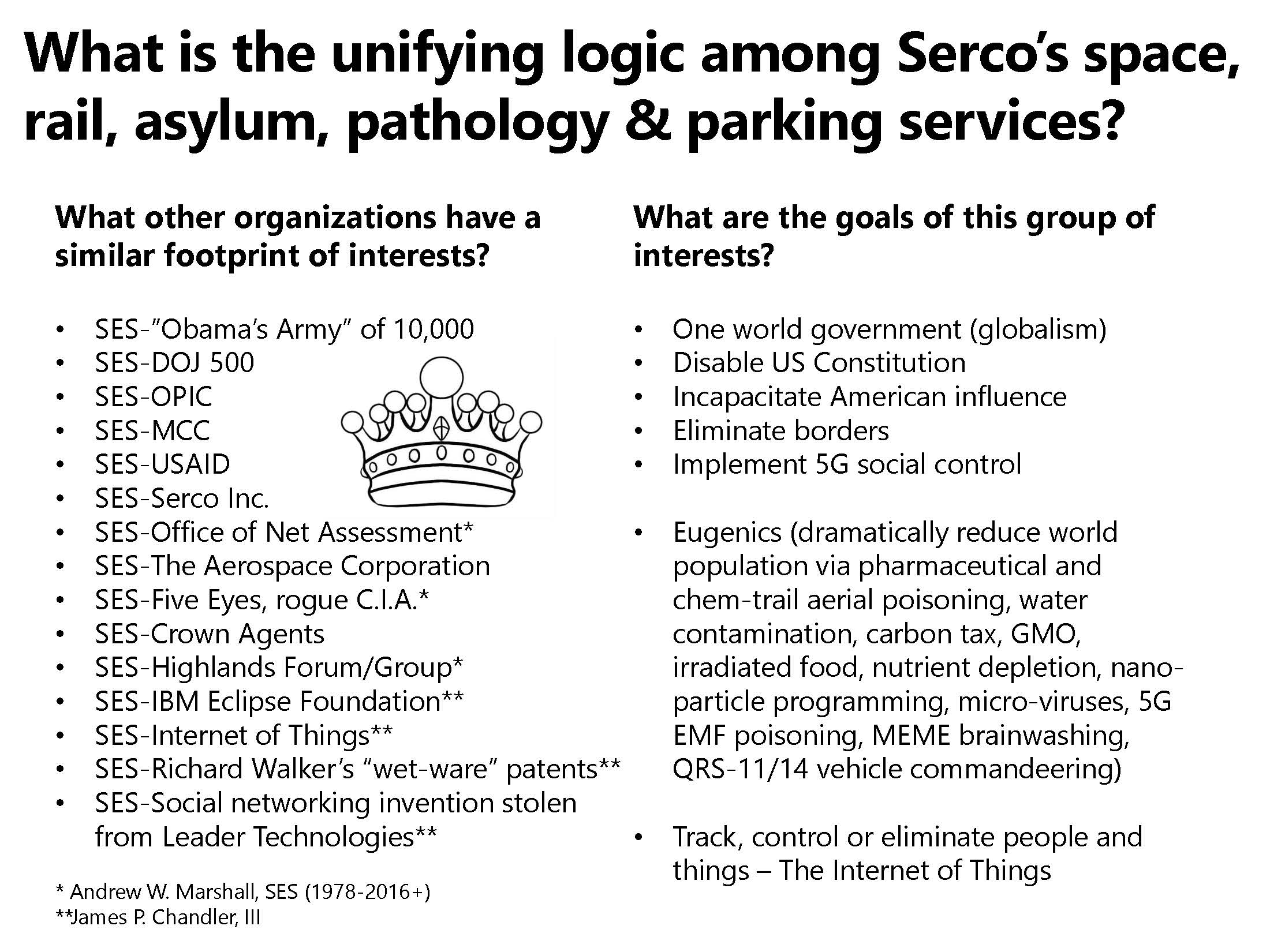 Fig. 6—Correlations in activities among Serco, OPIC, MCC, USAID, Crown Agents, American Inns of Court, Five Eyes, Highlands Group, IBM Eclipse Foundation, theft of Leader Technologies' social networking invention, The Internet of Things, and Richard C. Walker's "wet-ware" patents.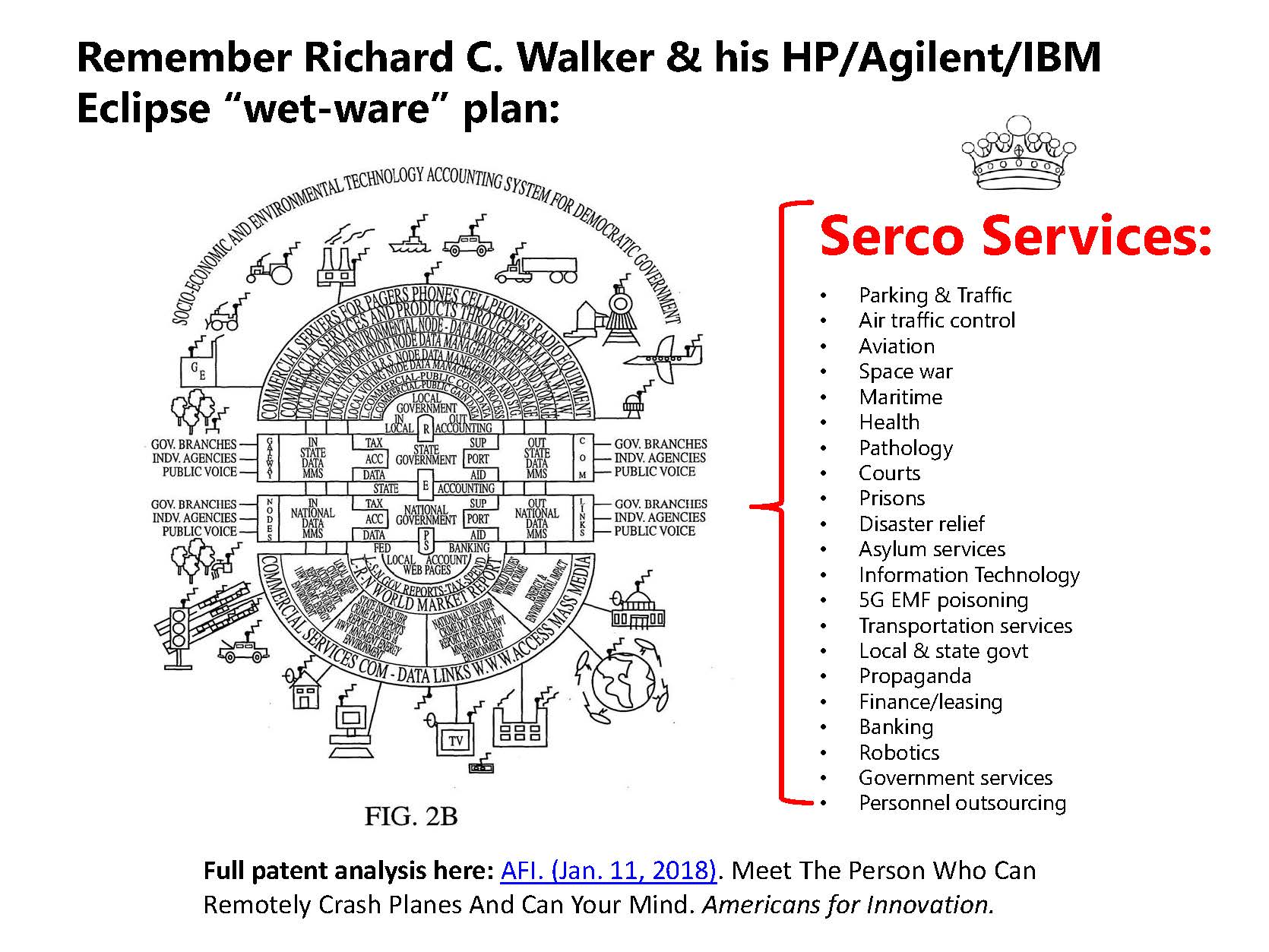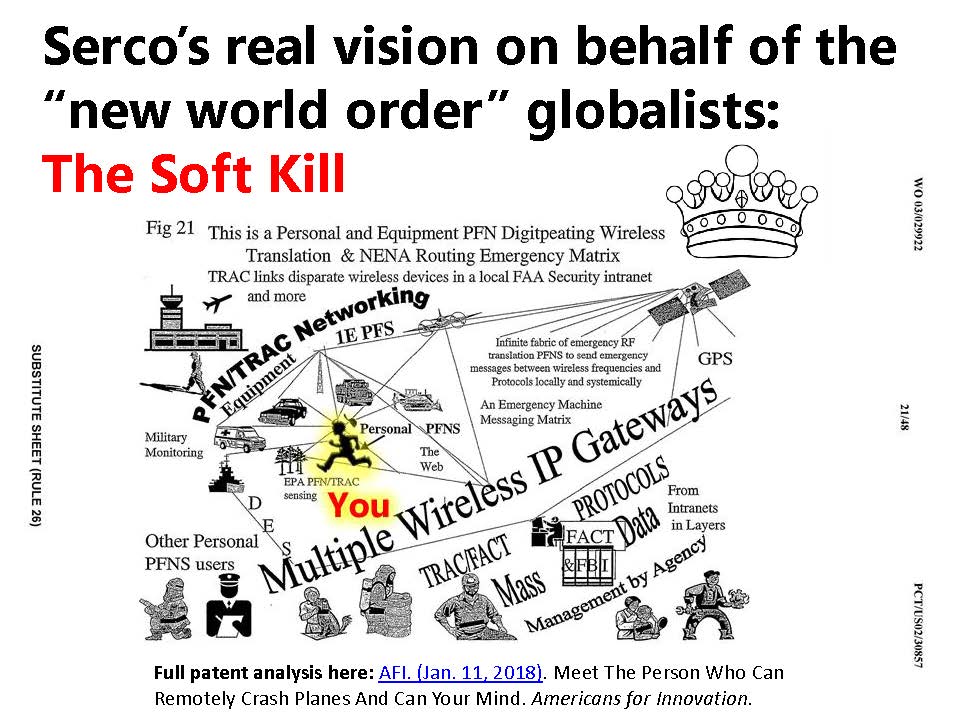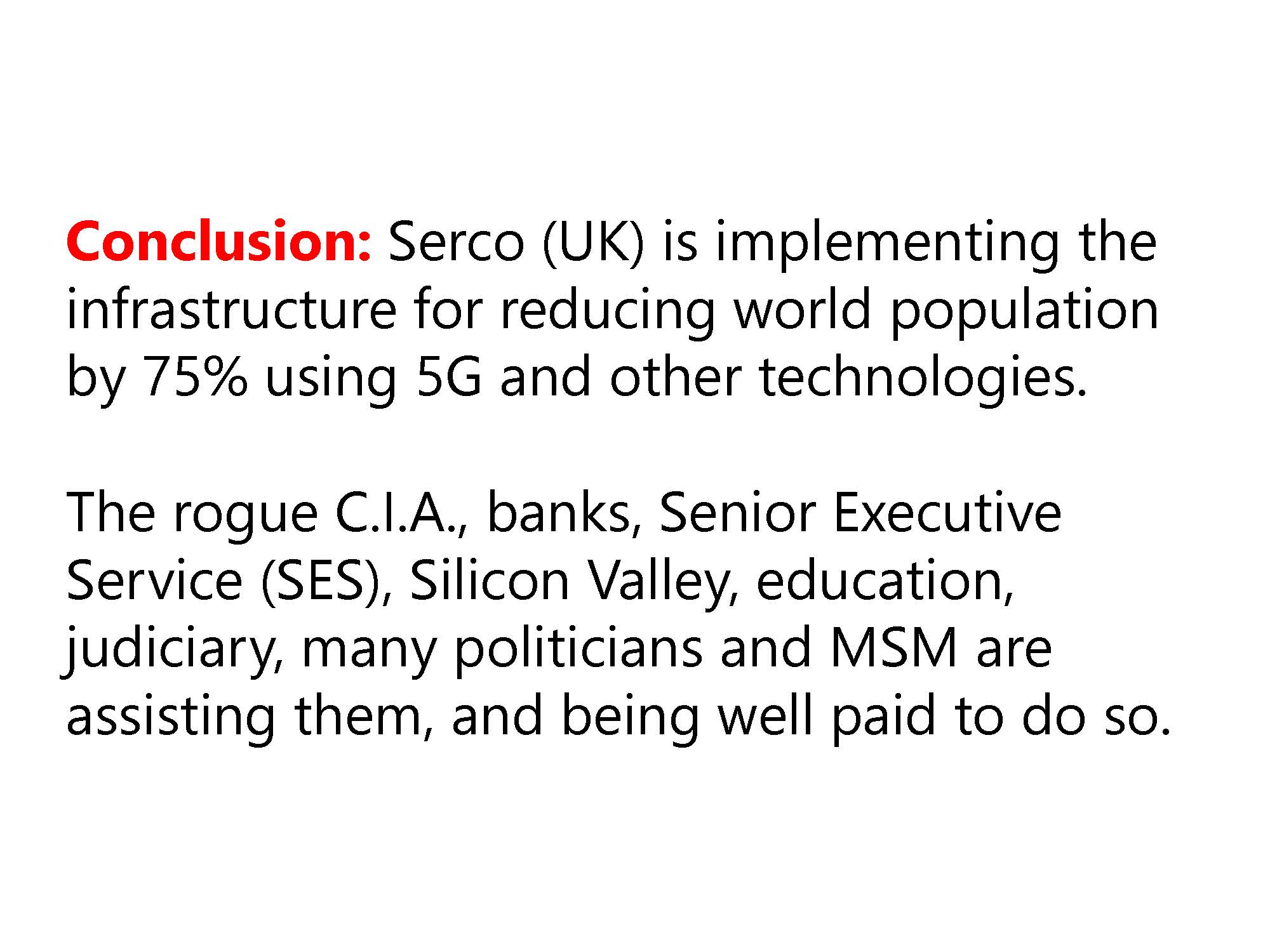 Fig. 9—Conclusion: The SES Deep State shadow government eugenics plan has assigned Serco the task of murdering 75% of the world population and then cleaning up the mess.
CALL TO ACTION:
God-fearing citizens of the United States and the world must call upon President Trump and loyal American leaders to defund the feeder systems used by these SES corruptocrats.
Ask President Trump to write the check to Leader Technologies for their Miller Act Notice so they can help implement new technologies that respect Constitutional privacy and property and help implement a truly Free Press.
MR. PRESIDENT: DEFUND THE CRIMINALS AND FUND THE MILLER ACT NOTICE
Mr. President, please pull the plug on these corruptocrats and their illegal funding streams. Since they are all based on fake values, no real services will be affected.
In addition, write the Miller Act Notice check to Leader Technologies for 18 years of unpaid use of their revolutionary social networking invention.  This will generate new cash streams to free up our economy from the globalist stranglehold.  This will also empower Leader Technologies and other actually creative people in America to fix our foundering ship of state.  See Leader Technologies files trillion dollar bond lien on the U.S. Government.
One Miller Act Notice check starts the ball rolling, Mr. President.
In addition, Leader shareholders have proposed a win-win solution to the collapse of the American Free Press, as well a large new revenue source without raising taxes. Leader principals are willing to funnel these payments back into establishing a truly Free Press. See Leader proposes trillion dollar fed revenue while lowering taxes.
* * *
Bookmark: #leader-story
FOOTNOTE:
THE MAGIC OF LEADER'S INVENTION
Leader's late 1990's breakthrough in digital scalability gave these corruptocrats a platform to unify their communications globally—on a large scale not previously possible with IBM and Microsoft platforms. Leader's founder Michael McKibben knew that because he had previously rebuilt AT&T's email system AT&T AccessPlus 3.0. He knew exactly what IBM's and Microsoft's collaboration shortcomings were because AT&T Bell Labs engineers had told him after they had abandoned their failed alliance with IBM-Lotus called "Network Notes." He knew they could not scale to the transaction volumes needed for the emerging Internet.  Problem-solver McKibben very intentionally set out to create a whole new paradigm. See The Weaponization of Social Media Should Concern Us All.
Once they had their "ah hah" moment in Dec. 1999, McKibben sought legal advice to protect the invention. He was eventually referred to the federal government's top intellectual property lawyer, James P. Chandler, III. Little did McKibben know that Chandler was chief among the world's corruptocrats. Chandler, who was already conspiring with the C.I.A., NSA, IBM, Microsoft, Cisco and Silicon Valley, knew that Leader's invention would finally enable them to implement their dream to spy on everyone.
As wolves in sheep's clothing, they offered the "social" services and email free of charge, replete with slippery legalese that gave them rights to all user data forever. This power has utterly corrupted them. Property and privacy were abolished in their pursuit of the seven deadly sins… in the name of "national security," of course.
What they did not plan on was that Leader's invention could not be controlled so precisely. Social users figured out ways to beat their censors and spread the truth using the very tools with which they are trying to enslave us.