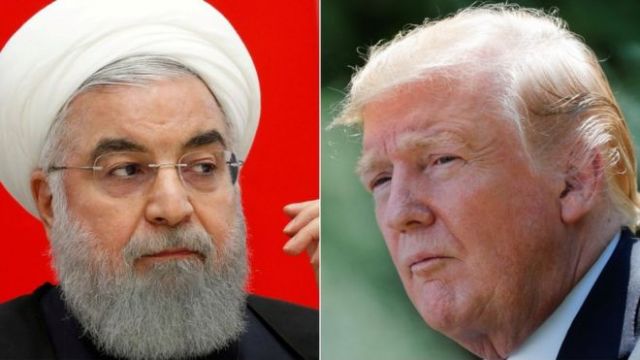 David Goldberg put out some new information regarding President Trump and the coming Iran War.  Goldberg's source in the past told him the US would use over 100 tactical nukes on Iran and an initial force of 120,000 US Troops.  The New York Times reported this exact same 120,000 number of troops leaked to them a month later!   Clearly Goldberg has some real Whitehouse sources but what he says in this broadcast is not good at all!
I've been noticing this for a while now - Trump does things exactly opposite of what he said before he was President.  Like when he said "I Love WikiLeaks" but now says "He never got into Wikileaks".   When he said we need to stop these stupid wars that could have been used to rebuild EVERYTHING in our country and now says he will destroy Iran if they threaten us.  I believe Trump is a good man and I will support him always but I can only conclude that Trump is being blackmailed to do things he doesn't want to do.   
David Goldberg says Trump is being blackmailed over money laundering which over half our congress is guilty of.  I've heard  from other whistleblowers Trump has issues with Deutsche Bank.  No idea if it's true but it's highly likely there is something being held over his head as Goldberg says in this video.  
Goldberg says his US and Israeli sources have told him that Trump got some phone calls in the last few days.  He was told that he will flushed down the toilet if he doesn't start the Iran War!
Can I see this information being true?  Absolutely I can!   I don't think Trump wants to do this Iran War and I also believe he's being forced to do something.   I'm not going to support an Iran War even regardless though.  I'm just here to tell you my thoughts on things.  I feel like many of you are friends I've never met before so I just tell you what I would tell you if we were drinking a beer together.  I'm not always right, but I do bring things to your attention that very few will.  I love sharing truth with others.   And if I'm wrong about something and find out later then I'll admit I got fooled too.  Nobody has all the answers and I don't claim to, I just do the best I can.  
So I'm asking all patriots to spread the word!   Goldberg basically thanked all of BeforeItsNews readers for spreading the word because he said that all of a sudden his videos are getting more popular!    That was you guys and gals!   Good job!  That was due to the patriots who read and share BeforeItsNews because you know that you'll find stuff here you won't find anywhere else!  
Keep up the good work and spread the word about ALL the lies!  Tell everybody our news is fake and to do the opposite of what the "news" or "authorities tell you!   They say Eat the GMO so Don't eat the GMO!  They say get 5G so Don't get 5G!   They say cable is real news so Cut your cable and save that money!   They say take your damn shots so Don't take their scam vaccines for any reason!   They say fluoride is good for your teeth so get toothpaste without it!   They say the Federal Reserve is WONDERFUL so you Make fun of the scam Federal Reserve and tell everybody it's a slave system to keep us fighting over while they hoard all the money like banker in Monopoly!   The money is all fake too!
And be sure spread the word covered in the two stories below.  We have Star Ships and free energy technology and they're keeping this information from us to keep us in their control!   Send the following two stories out again to destroy these liars!   Thank you patriots!  You are the smartest people on the planet because you took the Red pill while the others are still plugged into the Matrix thinking their TV and government tells them the truth!  It's actually quite liberating to admit to yourself that you got fooled and everything they've told us is a lie!     It takes an intelligent and humble person to admit their mistakes and to fully admit these demons fooled you.   The proud idiots who THINK they know everything are the ones who never wake up.   Only when you admit you got fooled are you able to see these fake news demons for who they really are!  Remember, the movie "They Live" was a documentary!   This is exactly what I see when I turn on Fox News or any of the rest of the frauds.
Spread these two stories too!   We should already be living a Star Trek future so never give up and never stop spreading the truth to anybody who will listen.   
Real Free Energy Demonstrated!  Tell Everybody!
Protect yourself from viruses, bacteria and other pathogens!  Watch all videos on APeX at ApexWaterForLife.com  Far superior to Colloidal Silver.  The inventor hasn't been sick in 16 years since first creating it!  Theres nothing else like it!

APEX - Extreme Anti-Pathogen, Anti-Viral, Anti-Bacterial!
See what happens in 5 minutes when your body gets 100% absorption of the vitamins and minerals it's lacking!   Get more information at www.Prodo1.com